Metal Wall Art
Shawn Schilling created the medium of infused metal sculpture. She designs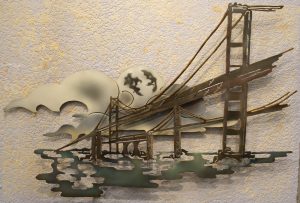 all of her artistic pieces to hang on the walls of today's homes and commercial entities. Scenes can be created to fit any interest or focus and to fit your space requirements. Her work is customized to each individual setting that enhances flair of feelings and emotion. The scenes use your wall much as a mural with the added advantage of dimension. To date Shawn has created dynamic scenes as wide as 13 feet.
Shawn creates her realistic scenes with a symmetry rarely seen in a metal medium. She combines a painter's style with hard metal to create an aura of mystery and awe that rivets your mind and draws you into its essence. The art is rich, expressive, and throws off livable warmth.
Shawn's Custom Work
In addition to creating her own original one-of-a-kind art, Shawn loves to work with her customers to create a piece of art that they imagined. Whether it is a special place, animal, or event, Shawn works tirelessly to make a custom scene that will represent the special idea you have.
For more information on our custom work, please go here.
STEEL WINDOWS
Steel Reflections has been creating incredible wall art for over 35 years and has now partnered with Rhapsody Studios to introduce a new line of art called Steel Windows.
Steel Windows allows you to select any picture you'd like, whether it is yours or one of the stunning fine art photographs from Rhapsody Studios, and design a custom frame for that image.
Frames have been made to add personal memories about the picture or you can choose to have Shawn to create a frame that just continues the image providing a 3 dimensional feel to the photo. Either way, Shawn will work with you to create just the right elements for your frame.